9 mei 2022
Eva van Tulden kreeg een overweldigende ontvangst
The Tibet Tour stopped in Amsterdam on Sunday morning at the local school. Eva van Tulden received an overwhelming reception. She was given the opportunity to look into the classes, see the school's teaching materials and talk to the students.
She told the amazed students about her tour. The students were especially impressed by how far she has already cycled. The goal is to raise as much money as possible for a Tibetan language resource in the coming weeks. Children and parents spontaneously donated for the good cause.
Wangpo Tethong, director of International Campaign for Tibet Europe, was also present and expressed his appreciation for the great work they are doing. ICT Europe has been a major supporter of the school for many years.
Tomorrow a city tour with Eva will take place in Amsterdam. For more details follow our facebook page.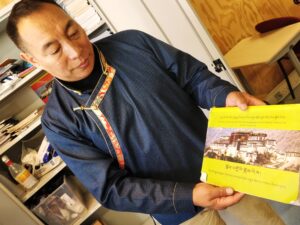 More info;