4 mei 2015
De gevolgen van de aardbeving in Nepal voor Tibet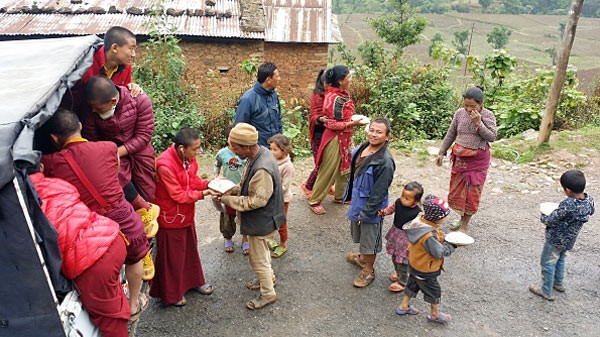 Monniken van het Benchen klooster in Nepal delen voedsel en water uit.
As the world's focus is turned to Nepal after the devastating earthquake, little is known about the situation in Tibetan areas close to the border, other than reports from the Chinese state media, due to tight information controls, restrictions on foreign visitors and lack of access to media. Official Chinese reports refer to the deaths of 25 people in the Tibet Autonomous Region, with four missing; 2,511 buildings destroyed, 82 monasteries damaged (13 seriously), and 20,000 relief workers and 4,100 military personnel deployed (April 30).[1]
The death toll may be lower than would be expected given the number of buildings destroyed because during this time of year many people in the area would be out in the fields carrying out agricultural work. But the figures still appear to be low, given the damage admitted in the state media. There are tight restrictions on information flow in the Tibet Autonomous Region due to the ongoing political crackdown, with severe penalties for passing on news that differs from official representations, and no independent non-governmental organizations allowed to operate there. The 7.8-magnitude quake struck Nepal at 06:11 GMT on April 25, flattening large parts of the capital Kathmandu and causing devastation across the impoverished Himalayan country and region.
The earthquake was felt quite strongly in the southern Tibet city of Shigatse (Chinese: Rigaze), the Tibet Autonomous Region, especially in the Mount Everest (Chomolangma) region and towns of Kyirong (Chinese: Jilong), Tingri (Dingri), Nyalam (Chinese: Nielamu) and Dram (Zhangmu) at the Nepal border, on the other side of the Friendship Bridge. Following the main earthquake, a 5.7 magnitude aftershock occurred later on the same day near the town of Shelkar (Chinese: Xiege'er, also called New Tingri) causing further damage. Further large aftershocks were recorded in Kodari, the first town in Nepal across the border from Tibet, on 27 April. According to various sources, 80% of the buildings in Nyalam have either major damage or have collapsed.[2] Following the quake, large convoys of military trucks were depicted moving from Lhasa and Shigatse city (which were not affected by the earthquake) to quake-hit areas in the border regions.[3]
Door de Chinese staatsmedia getoonde militaire voertuigen op weg naar het aardbevingsgebied. (Xinhua, 28 april 2015)
At 3:10 pm on April 27, a powerful aftershock hit the town of Dram (Chinese: Zhangmu), which clings to the mountainside above the border point with Nepal. The aftershock destroyed 10% of buildings in Dram, causing cracks or other damage to "all buildings" in the town, according to a Chinese state media report. Pictures were posted in the state media of people being evacuated from Dram.[4]
The news of 25 deaths and four missing was posted yesterday (April 30) in the state media, in contrast to the rolling news coverage from Nepal by the Nepalese and international media since the quake struck.
The political importance of handling relief efforts in this sensitive border area of Tibet was underlined in a statement on April 30 by senior leaders of the Tibet Autonomous Region led by Party Secretary Chen Quanguo. Party Secretary Chen referred to a direct message from China's leader Xi Jinping in his comments, saying that "With the safety and well-being of the disaster area weighing heavily on the hearts of Secretary Xi Jinping and the Party central committee, and with the strong support of the central committee and national organs, the entire Autonomous Region Party, government, military, police, and people will lead the first charge. This fully reflects the warmth of the motherland's great family and the advantages of the socialist system. When one area faces difficulties support will come from all directions, a traditional Chinese value. We must study and implement the spirit and driving forces of the important instructions from Secretary Xi Jinping and other comrades from the central committee, redouble our efforts, fight continuously, and strive to win a complete victory in the earthquake relief field."[5]
Another official report stated the following: "Communications services disrupted in 41 of 388 township centres, Chuteng (Chinese: Qutang) township in Tingri county out of communication, Rongshar cut off. Due to snowfall, road to Kotang township in Kyirong county cut. Due to landslide, road from Kyirong township down to Rizur bridge is blocked. Road to Rongshar township from Tingri blocked by fallen boulders, and is being cleared. Helicopters are landing at Rizur bridge. A lake formed by landslide on that road is being investigated by experts. As of 1 pm on Apr 28, there had been 94 aftershocks, 2 were Richter 7 and 3 were Richter 5 strength. 20,000 relief personnel and 1400 machines have been sent by TAR govt relief coordination command, Tibet Military District has sent 4,100 personnel, 700 machines and 9 helicopters, TAR PAP command has sent 750 personnel and 158 machines, 1300 personnel from TAR PSB Border security command, 266 and 44 vehicles from PSB fire brigade. So far relocation has been arranged for 47,826 people."[6]
In Nepal, 6,204 people are known to have died, as far as is known so far, with a further 13,932 injured across the country. Eighteen climbers died at Mount Everest base camp when the quake sparked an avalanche. The death toll is expected to increase. Seventy-five people were killed in India.
Monniken van Phakchok Rinpoche' Chokgyur Lingpa Stichting voor Earthquake Relief verdelen hulp.
The death toll of both Tibetans and Nepalese in the more remote settlements and villages is not yet known; a Tibetan who has worked with the Nepal Buddhist Federation told ICT that "many Tibetans have lost their lives". Rasuwa – where there is a Tibetan settlement and a primary school with a small clinic – was hit by the quake, and the Tibetan settlements of Tsagang and Bagang in the Sindupalchok district are also badly affected. The Nepalese Buddhist Federation and other groups are coordinating various relief efforts across the community, involving many Himalayan and Tibetan monks and nuns in active rescue and rebuilding work.[7]
The Central Tibetan Administration in Dharamsala reported the deaths of three Tibetans in Nepal on April 28, stating in a report that almost all Tibetans in Nepal are currently staying in tents outside of their homes in open areas, with people still unable to go back to their homes fearing more aftershocks of the earthquake.[8] ICT will report further as more information becomes available.
Donate to ICT's Earthquake Relief Fund »
Voetnoten
[1] http://tb.xzxw.com/xw/sz/201504/t20150430_411310.html vertaald in het Engels door Matthew Akester op: https://www.facebook.com/cumoderntibet/posts/10152720160467484
[2] Een bron verklaarde dat de locale bevolking zei dat het dodental was waarschijnlijk veel hoger zijn, gezien de omvang van de verwoesting: http://www.thelandofsnows.com/nepal-earthquake-update/
[3] Xinhua, met foto, 28 april http://news.xinhuanet.com/english/photo/2015-04/28/c_134191352.htm
[4] http://tb.xzxw.com/zt/2015zt/nbrdz/201504/t20150429_408980.html Een vertaling van het rapport stelt "Tot op dat moment waren 20.000 militaire en civiele hulpverleners en 70 zware machines ingezet in de getroffen gebieden, en plannen gemaakt voor de evacuatie van 29.116 mensen. Toegangsweg werd vrijgemaakt naar het drop Rongshar in Tingri, de stad Dram in Nyalam en de Rizur brug in Kyirong in een noodsituatie. 6000 zijn nog steeds gestrand in Nyalam en 170 bij de Rizur brug."
[5] Xinhua, 30 april 2015, http://epaper.chinatibetnews.com/xzrb/html/2015-05/01/content_615611.htm
[6] Xinhua in het Chinees, 30 april 2015 http://tb.xzxw.com/xw/sz/201504/t20150430_411310.html
[7] Veel verschillende groepen en individuen geven reddingshulp, noodhulp en hulp bij wederopbouw. Onder de betrokken boeddhistische groepen zijn de Karuna Shechen, de Nepal Boeddhistische Foundation en Chogyur Lingpa. Informatie over de gevolgen van de aardbeving voor de verschillende monastieke gemeenschappen in Nepal is te vinden op diverse websites, waaronder: http://www.benchen.org/en/earthquake-in-nepal en http://earthquakerelief.cglf.org/
[8] http://tibet.net/2015/04/situation-of-tibetans-in-nepal/