THANK YOU FOR REGISTERING for THE FILM: THE SWEET REQUIEM ?
You have just signed-up for the online movie: The Sweet Requiem, by filmmakers Ritu Sarin & Tenzing Sonam. The film lasts 1 hour and 31 minutes and will be screened in Tibetan with English subtitles
On Friday, September 25, we will send you an e-mail in the morning with the link for the film.
If you have not received an e-mail, please check your 'spam-inbox' as well.
You can watch this film (free of charge!) at home any time on Friday September 25 and Saturday 26 September. All you need is a tablet, computer, beamer or TV. Don't forget to put this date in your agenda!
Tip from the team at ICT:

A maximum of 750 Tibet-friends can watch the film throughout the Netherlands and Belgium. Organize your own movie night at home or in the open air and offer others to watch together with you! *
ICT Europe offers this film because we would like to give you, a loyal Tibet supporter, something in return for your support to the Tibetan people. This film provides an important insight into the life of a Tibetan who fled Tibet through the Himalayas and is now living in exile.
We hope the movie inspires you!
If you have any questions, you can always reach us via: [email protected].
Enjoy watching!
Sincerely,

Tsering Jampa
Director International Campaign for Tibet Europe
* Naturally, we advise everyone to always follow the measures against corona that apply in your country
WANT TO GIVE SOMETHING BACK FOR TIBET? Raise Your Flags for Tibet!
On September 27th we organize the international prayer flags action day.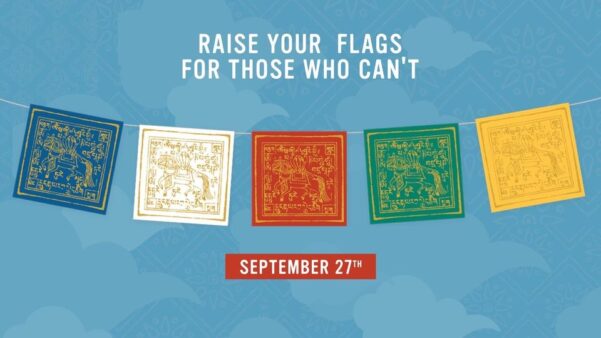 Help us stop the Chinese oppression in Tibet! On 27th September we raise our prayer flags for those who can't. Hang prayer flags outside where everyone can see them and share a photo online with the hashtag #FLAGSFORTIBET.